Sycamore Bank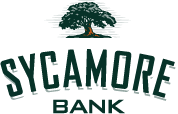 In 1900, a group of 35 local businessmen and farmers established Senatobia Bank as a home owned community bank dedicated to providing banking services in a friendly and effective manner. The bank's name change to Sycamore Bank reflects its expansion to a large portion of North Mississippi. Still dedicated to the high standards set by their founders, even today most of the shareholders of their holding company are local. Sycamore Bank demonstrates its commitment to its community by supporting local schools and civic organizations and by sponsoring community events.
Related News
Delta Business Journal |
Thursday, December 7, 2017
Senatobia, a town 8,000 in the Mississippi Delta, is on the rise. This article highlights the beneficial presence of Sycamore Bank, whose main branch is located in Senatobia. "Even though we are a community bank, we offer a full suite of financial services that compete with anyone, even the megabanks," said CEO Jay Tindall. "And unlike the megabanks, all our decisions are made locally and by the people that greet you when you walk in the door."