1st SouthWest Bank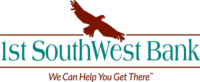 1st SouthWest Bank is a strong and growing community bank dedicated to serving the people and businesses of Southwestern Colorado. For over 20 years, the bank has actively supported and sought opportunities to improve the quality of life in its communities. In addition to providing professional and personalized service to customers, 1st SouthWest strives for 100% involvement from its employees in community organizations, programs and non-profits.
Related News
The Durango Herald |
Sunday, December 16, 2018
Rural businesses, especially startups and those operating on a shoestring, have long found it difficult to qualify for traditional bank loans. Now Hello Bello, a new app from 1st Southwest Bank CEO Kent Curtis, seeks to address that. The app provides a central database that combines numerous sources of financing open to an underserved business. "Hello Bello serves to mitigate risk for banks and open the complete capital stack for small businesses," Curtis said. "This can be transformational in the way capital is deployed in rural communities."
1st SouthWest Bank |
Monday, December 10, 2018
1st Southwest Bank customer Animas Chocolate Company has revolutionized the world of chocolate for Durango locals. The shop specializes in both bean-to-bar chocolate and fine chocolate mixes such as hot chocolate, truffles, and more. Owners Carley and Marc have taken dessert-making to a whole new level, making tasty and enjoying sweets an experience anyone will want to share. Recently, the bank reached out to the owners to get their take on what it's like running their unique business. Read more here.
American Banker |
Thursday, September 8, 2016
The number of community development banks is rising at a time when the ranks of other financial institutions are shrinking. The special-purpose banks — a subset of community development financial institutions — serve low- and moderate-income communities. By becoming CDFIs, banks — along with credit unions and other types of lenders — can apply for certain funding from the Treasury Department and other agencies.
First Southwest Bank and Bank of Anguilla discuss the reasons why they became CDFI certified banks and Jeannine Jacokes of the Community Development Bankers Association talks about the benefits of CDFI certification for the community banking industry.