1st SouthWest Bank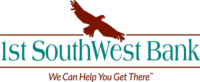 1st SouthWest Bank is a strong and growing community bank dedicated to serving the people and businesses of Southwestern Colorado. For over 20 years, the bank has actively supported and sought opportunities to improve the quality of life in its communities. In addition to providing professional and personalized service to customers, 1st SouthWest strives for 100% involvement from its employees in community organizations, programs and non-profits.
Related News
Durango Local News Network |
Friday, December 17, 2021
Durango resident Jenni Gross was out of work for more than eight months after the building where she leased space for her business, The Soup Palette, was sold to a new owner, and she was forced to close. Today she operates out of a food truck she was able to purchase through a unique lending partnership between the First Southwest Bank and its sister non-profit. Hundreds of entrepreneurs in Southern Colorado have been able to start or expand their businesses thanks to a unique partnership between the First Southwest Bank and its sister non-profit, the First Southwest Community Fund. During the pandemic, the community fund established the Innovate Onwards Program to provide businesses with low-interest loans for working capital to rehire staff, upgrade equipment, or purchase inventory. Another program, the Creative Arts Fund, provides low-interest loans for up to $15,000 to artists and arts businesses to purchase materials, establish a gallery, or even an online presence. More recently, the community established a food truck loan fund to help entrepreneurs affordably enter the food industry.
Independent Banker |
Wednesday, December 1, 2021
First Southwest Bank isn't one to borrow a page from another bank's playbook. The $435 million-asset community development financial institution (CDFI) in Alamosa, Colo., creates lending programs that are highly tailored to the needs of its rural communities. "We test a lot of programs," says president and CEO Kent Curtis. "If a program works in the area and we think we can duplicate it within our footprint or in other rural areas around the state of Colorado, then we'll do that." That mindset, and its dedication to its community, has led to the bank receiving hundreds of thousands of dollars in loans and grants year after year.
Alamosa News |
Tuesday, November 30, 2021
Kent Curtis, President & CEO of First Southwest Bank, with six locations serving southern Colorado, will serve on the Colorado Bankers Association Board of Directors for a multi-year term. The Board of Directors of the Colorado Bankers Association leads the organization in its policy and industry advocacy efforts. The Colorado Bankers Association represents more than 95 percent of the 129 banks operating in Colorado, which have $190 billion in assets, 1,445 branches across the state and more than 20,000 dedicated employees. With over 25 years of successful banking experience, and proven abilities in all facets of management, motivation, team building, lending, and turn-around, Kent Curtis has held various executive officer positions as well as board memberships throughout his community banking career.