1st SouthWest Bank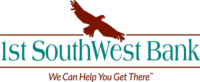 1st SouthWest Bank is a strong and growing community bank dedicated to serving the people and businesses of Southwestern Colorado. For over 20 years, the bank has actively supported and sought opportunities to improve the quality of life in its communities. In addition to providing professional and personalized service to customers, 1st SouthWest strives for 100% involvement from its employees in community organizations, programs and non-profits.
Related News
American Banker |
Thursday, September 8, 2016
The number of community development banks is rising at a time when the ranks of other financial institutions are shrinking. The special-purpose banks — a subset of community development financial institutions — serve low- and moderate-income communities. By becoming CDFIs, banks — along with credit unions and other types of lenders — can apply for certain funding from the Treasury Department and other agencies.
First Southwest Bank and Bank of Anguilla discuss the reasons why they became CDFI certified banks and Jeannine Jacokes of the Community Development Bankers Association talks about the benefits of CDFI certification for the community banking industry.