2014 Promontory Empowerment Awards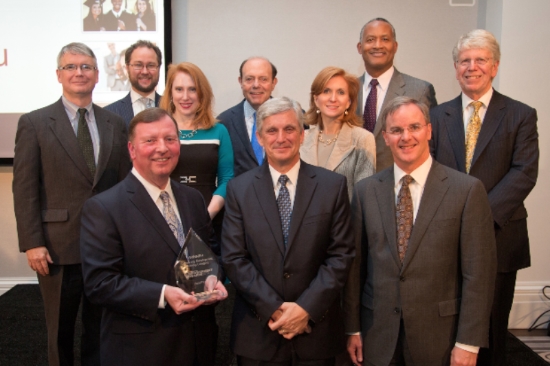 Back row (left to right): Dave Wilkinson (City First Enterprises), Gene Ludwig (Promontory Financial Group), Brian Argrett (City First Bank of D.C.); Middle: John Hamilton (City First Enterprises), Lisa Gans (City First Enterprises), Jeannine Jacokes (CDBA), Chuck Muckenfuss (City First Enterprises); Bottom: Bill Ray (BankPlus), Jack Webb (BankPlus), Max Yates (BankPlus)
Promontory Financial Group has announced the winners of its first annual Empowerment Awards, a new program that recognizes promising projects that provide or encourage access to safe, fair financial services in underserved communities. Among the winners and finalists are a number of CDBA members, recognized for the innovative work CDFI Banks and Bank Holding Companies do to bring financial services to the unbanked and underbanked.
The award winners are BankPlus of Ridgeland, Mississippi and City First Enterprises, the nonprofit CDFI bank holding company of City First Bank of D.C. Both BankPlus and City First Bank of D.C. are CDBA members.
Promontory also recognized CDBA members Beneficial State Bank, Carver Federal Savings Bank and Start Community Bank as finalists in the Community Development Banking category.
Award Winners
The Access Category
Online Investment Platform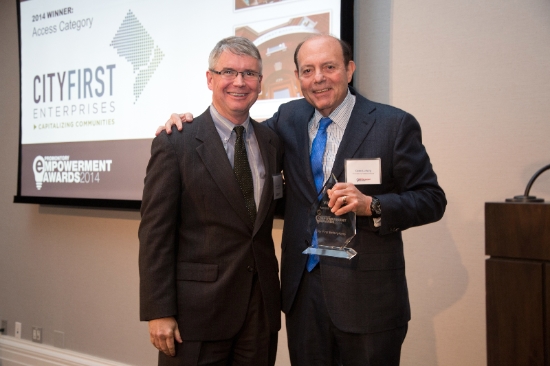 City First Enterprises President John Hamilton (Left) Receives Community Development Banking Award from Promontory Financial Group CEO Gene Ludwig
City First Enterprises is a Washington, D.C.-based CDFI nonprofit bank holding company that promotes social justice through economic-access programs and its CDFI Bank, City First Bank of D.C. City First Enterprises is developing a new online investment platform designed to link mission investors to community enterprises. The program will take advantage of crowdfunding provisions of the JOBS Act to address a severe shortfall in the financing available to CDFIs — $650 million in the past 12 months alone. Using the platform, CDFIs and their customers can access community-oriented capital, while investors have a valuable signal that their investment is directed toward community needs. The platform also will create a secondary market in community-investment notes backed by CDFI-issued loans and make smaller offerings of notes feasible through lowered administrative and transaction costs.
The Community Development Banking Category
CreditPlus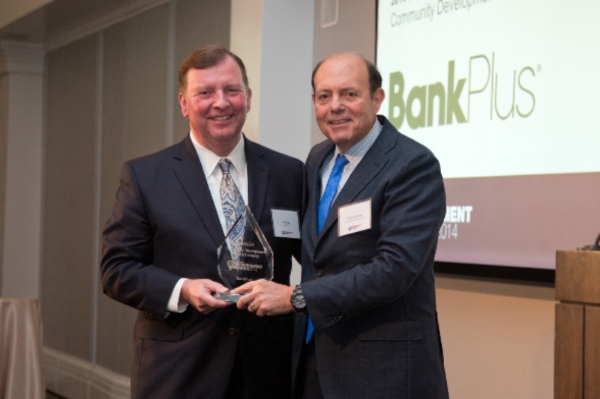 BankPlus President and CEO Bill Ray (Left) Receives Community Development Banking Award from Promontory Financial Group CEO Gene Ludwig
CDBA member BankPlus is an independent community bank with 65 banking offices in 34 Mississippi communities. Their CreditPlus program offers small-dollar, short-term loans at a fixed rate of 5% for up to two years. Unlike most small dollar credit products, all CreditPlus loans come with a required financial literacy course based on the FDIC's Money Smart curriculum. Since CreditPlus launched in 2008, almost 18,000 people have attended its financial-education courses and the bank has lent more than $13 million. BankPlus now has more than 12,000 active CreditPlus savings and checking accounts with more than $4 million in total deposits. Roughly 90% of borrowers are low- to moderate-income, and 14% have no credit score. The program works to create long-term relationships with underserved consumers and address a critical community need for fair financial services. 
Award Finalists
The Community Development Banking Category
The Washington Small Business Empowerment Program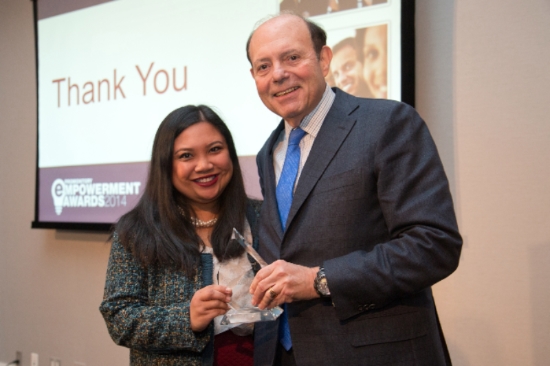 Maritessa Areas, Beneficial State Bank Program Manager (Left), receives a Community Development Banking Finalist Award from Promontory Financial Group CEO Gene Ludwig
CDBA member Beneficial State Bank's Washington Small Business Empowerment Program is a partnership with the Main Street Alliance of Washington, a nonprofit representing 2,500 Washington state small businesses. Many of those businesses struggle to access fair financial products and turn to alternative providers. Beneficial State's Small Business Empowerment Program fights that trend with Business Builder, a loan or line of credit of up to $50,000 with an 8.25% interest rate and a credit enhancement provided by the Beneficial State Foundation, the charitable foundation that owns the bank. Beneficial has already originated $400,000 in Business Builder loans since July. 
Carver Community Cash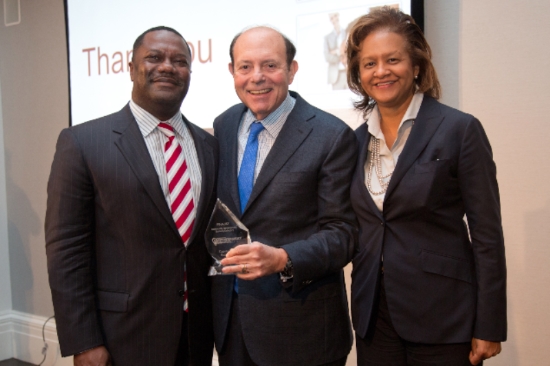 Michael Pugh (left) and Deborah Wright (right) of Carver Federal Savings Bank receive a Community Development Banking Finalist Award from Promontory Financial Group CEO Gene Ludwig
CDBA member Carver Federal Savings Bank in New York City has introduced Carver Community Cash, a safe substitute for payday lenders and check cashers. The program offers check-cashing services — including bill payment and wire transfers — in a city where nearly 15% of adults lack a checking account. To date, Carver has provided these services to more than 17,000 individuals and opened 7,000 checking accounts. The key to the program's success is convenience: Carver has placed 24-hour self-serve kiosks in accessible locations around the city.
New Haven's Start Community Bank, a CDBA member, offers two saving programs geared toward local youth: Youth@Work, which is available for participants in a New Haven municipal summer job program, and Teen@Work, available to those who work at a local charity and complete a financial-literacy program. These programs offer direct deposit into a savings account with no minimum balance or fees. The accounts offer interest on any amount over $1, with rates beginning at 1%. Start launched the program in 2012 and currently enrolls 474 young people, encouraging savings and instilling healthy, lifelong financial habits.
To learn more about the Promontory Empowerment Awards or the awardees, visit empowerment.promontory.com