Community Bank of the Bay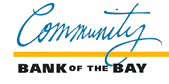 Community Bank of Bay was founded in 1997 to serve the credit needs of historically underserved businesses in the San Francisco Bay Area. Locally owned and operated, the bank invests in the economic vitality, community spirit, and future of Oakland. With exceptional local market expertise and broad industry knowledge, the bank brings value to customers and their community.
Related News
Banking CIO Outlook |
Friday, July 30, 2021
Community Bank of the Bay (CBB), a leading San Francisco Bay area commercial bank, has partnered with Numerated, the fast-growing fintech making business banking easy for financial institutions and their clients. With a reputation for being an innovative community bank, CBB will use Numerated's digital lending platform to meet business clients' growing demand for digital channels. CBB will leverage Numerated's digital lending platform to offer Oakland businesses term loans and lines of credit up to $250,000, completely digitally, from application through closing. In doing so, the bank will offer convenient digital borrowing channels and fast loan decisions to businesses, while benefiting internally from efficiency gains in their lending operations.
National Community Investment Fund |
Wednesday, February 3, 2021
NCIF invited 10 partner CDFI and Minority Banks to identify small business customers that are integral to their local communities and needed support to sustain their respective businesses through the pandemic. NCIF used over $100,000 of its own funds to pilot an unrestricted microgrant program as gap funding to these customers. Our first batch of microgrants was given to social entrepreneurs, retail businesses, community facilities, affordable housing organizations, arts nonprofits, and other small businesses across the country. These CDBA members are First Southwest Bank, Carver Federal Savings Bank, City First Bank of DC, Community Bank of the Bay, First Eagle Bank, Industrial Bank, Native American Bank, Providence Bank & Trust, Southern Bancorp, and United Bank. 
Next City |
Thursday, April 18, 2019
Earlier this month, Next City and CDBA member Community Bank of the Bay joined forces to host the annual Spaces and Places conference. This event, designed as an "unconference," intends to shine a light on community development issues affecting communities of color. These are issues often ignored by urban planners and design communities, but are nonetheless in dire need of attention. This year's workshop explored collective and cooperative power, affordability in housing, homelessness, climate change displacement and environmental justice, and the needs of black cultural districts. The recorded stream of the event is available here.