First Community Bank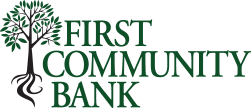 First Community Bank was originally chartered as the First National Bank of San Benito on September 27, 1979 and opened for business on October 3rd of that year in San Benito, Texas. The bank's roots are evident in its ownership, represented by local businesspeople with a strong family heritage in the Rio Grande Valley. 
First Community Bank is an independent community based bank deeply committed in their responsibility to serve their community, its businesses, and its families. Built upon trust and integrity, their "Roots" provide the financial strength, as well as the support for their customers' personal and business growth. By providing the highest quality products and services they enable customers to succeed, grow and develop their own "Roots" within their community.