First Eagle Bank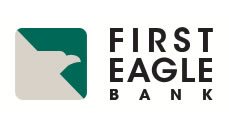 First Eagle Bank is an entrepreneurial, independent bank focused on developing long lasting relationships with their customers, and community. They take an active role in their community and have received an "Outstanding" Community Reinvestment Act (CRA) rating. First Eagle Bank is committed to providing credit, capital and financial services to underserved communities. Their staff is personally committed and involved with non-profits that assist people in their communities.
Related News
Daily Herald |
Friday, August 20, 2021
First Eagle Bank delivered a new dream bedroom to Harry, a 13-year-old Bartlett teen battling cancer. Harry was diagnosed with leukemia in February 2021 and has spent much time in and out of the hospital. The Hanover Park based bank partnered with Illinois based charity Special Spaces Chicagoland to create Harry's dream bedroom in a single day. "Children battling cancer spend endless hours in their room, it was an honor to be involved in sponsoring and creating a safe space for Harry during such a challenging time," said Gene Khalimsky, Vice President at First Eagle Bank. Khalimsky is well aware of the impact of childhood cancer as his daughter also spent years battling leukemia and received a room makeover from Special Spaces while in treatment in 2013 -- she is now a healthy 14-year-old. "First Eagle Bank is proud to contribute to the community and give back to such a great cause," he said. First Eagle Bank, which has always taken an active role in the local community, is very proud of its outstanding Community Reinvestment Act rating and Community Development Financial Institution certification. It is committed to providing credit, capital, and financial services to underserved communities and its staff is personally committed and involved with nonprofits such as Special Spaces Chicagoland to assist people in any way possible. First Eagle Bank is looking to make a difference in people's lives -- its customers, its community and each other.
National Community Investment Fund |
Wednesday, February 3, 2021
NCIF invited 10 partner CDFI and Minority Banks to identify small business customers that are integral to their local communities and needed support to sustain their respective businesses through the pandemic. NCIF used over $100,000 of its own funds to pilot an unrestricted microgrant program as gap funding to these customers. Our first batch of microgrants was given to social entrepreneurs, retail businesses, community facilities, affordable housing organizations, arts nonprofits, and other small businesses across the country. These CDBA members are First Southwest Bank, Carver Federal Savings Bank, City First Bank of DC, Community Bank of the Bay, First Eagle Bank, Industrial Bank, Native American Bank, Providence Bank & Trust, Southern Bancorp, and United Bank. 
Federal Home Loan Bank of Chicago |
Monday, August 24, 2020
The Federal Home Loan Bank of Chicago (FHLBank Chicago) this week announced more than $900,000 was awarded through its Community First® Capacity-Building Grant Program to 21 nonprofit community development lenders working in Illinois or Wisconsin. Grants are used to help strengthen a nonprofit community development lender's financial position, operational efficiency, and/or human capital to support the affordable housing and/or economic development programs the organization provides to the local communities in which they, and the member financial institution, serve. Grant recipients include CDBA members First Eagle Bank and Bay Bank.