First Eagle Bank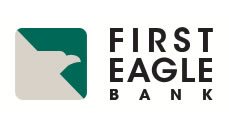 First Eagle Bank is an entrepreneurial, independent bank focused on developing long lasting relationships with their customers, and community. They take an active role in their community and have received an "Outstanding" Community Reinvestment Act (CRA) rating. First Eagle Bank is committed to providing credit, capital and financial services to underserved communities. Their staff is personally committed and involved with non-profits that assist people in their communities.
Related News
Community Development Bankers Association |
Monday, October 8, 2018
On Monday, October 8th, CDBA and First Eagle Bank organized a regional CDFI Banker gathering in Chicago before the annual OFN Conference. The event was an exciting opportunity for locals to network with mission-driven banks from around the country and to engage on hot topics in the community development banking sector in the areas of policy, best practices, impact measurement.