First Eagle Bank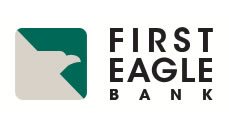 First Eagle Bank is an entrepreneurial, independent bank focused on developing long lasting relationships with their customers, and community. They take an active role in their community and have received an "Outstanding" Community Reinvestment Act (CRA) rating. First Eagle Bank is committed to providing credit, capital and financial services to underserved communities. Their staff is personally committed and involved with non-profits that assist people in their communities.
Related News
Federal Home Loan Bank of Chicago |
Monday, August 24, 2020
The Federal Home Loan Bank of Chicago (FHLBank Chicago) this week announced more than $900,000 was awarded through its Community First® Capacity-Building Grant Program to 21 nonprofit community development lenders working in Illinois or Wisconsin. Grants are used to help strengthen a nonprofit community development lender's financial position, operational efficiency, and/or human capital to support the affordable housing and/or economic development programs the organization provides to the local communities in which they, and the member financial institution, serve. Grant recipients include CDBA members First Eagle Bank and Bay Bank. 
CDBA |
Tuesday, January 8, 2019
This week's CDBA Storybank video highlights First Eagle Bank in Chicago, Illinois. Its featured client, MDC Economic Development Corporation, specializes in public housing renovation in the city's most underserved areas. MDC is part of the Do For Self Community Development Corporation, an initiative to train, employ, and develop former gang members, ex-offenders, and other socially disenfranchised members of the community so they can transform the communities they live in while earning a legitimate income. Watch the video here.
Community Development Bankers Association |
Monday, October 8, 2018
On Monday, October 8th, CDBA and First Eagle Bank organized a regional CDFI Banker gathering in Chicago before the annual OFN Conference. The event was an exciting opportunity for locals to network with mission-driven banks from around the country and to engage on hot topics in the community development banking sector in the areas of policy, best practices, impact measurement.