Guaranty Bank and Trust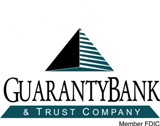 Since 1943, Guaranty Bank & Trust Company has been serving their customers as a locally owned and operated institution. Guaranty Bank's philosophy is to provide the best banking products along with personal, quality customer service. With a team of highly-qualified community bankers committed to serving all of their markets and low-income areas, Guaranty Bank makes a difference by providing financial services to individuals and businesses alike. Guaranty Bank & Trust Company proudly helps to facilitate economic development in Mississippi and is a leader in the community banking field.
Related News
Yes Magazine |
Thursday, September 1, 2016
Mississippi has more CDFIs per capita than any other state. Its financial ecosystem is a unique place, where bankers and residents are coming to see one another as allies despite a difficult history. CDFI's are leading the way. "If we don't help our community, the community's going to die" says Huey Townsend, President and CEO of Guaranty Bank & Trust. Powered by nearly $2.5 million in awards from the CDFI Fund, his institution has emerged as a leader in providing financial services to the poor, along with a handful of others including Bank of Anguilla in the region. Guaranty Bank & Trust was among the top providers of home loans in the 13 Delta counties where poverty is a persistent problem. Local CDFIs together made fully a third of housing loans here, while the large national banks that dominate home lending in most areas made only a handful.
American Banker |
Monday, August 29, 2016
American Banker has released their 2016 list of best banks to work for.  CDBA Members Guaranty Bank and Trust, FNBC Bank, Community Bank and Bankplus all made the list.