Local Bank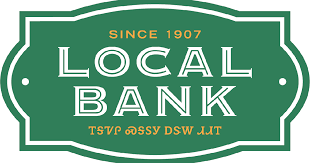 The bank was founded in 1907, the year Indian Territory and Oklahoma Territory united as the State of Oklahoma, by a group of prominent members of the Cherokee tribe. As the only bank in the town of Hulbert, Oklahoma and with branches in Tahlequah and Park Hill, Oklahoma, Local Bank sees its responsibilities extending beyond what are usually thought of as "normal" banking functions. Unlike "ordinary" banks, Local Bank invests 95% of deposits back into Cherokee County. Local Bank, as the largest commercial entity in town, takes the lead in community affairs. The Local Bank daily lives its motto: Your Trust is Our Greatest Asset.
Related News
Community Development Bankers Association |
Wednesday, March 20, 2019
This week's CDBA Storybank video highlights The Bank of Cherokee County in Tahlequah, Oklahoma, one of the first Native Community Development Financial Institutions in the country. Its featured clients are small business owners who have developed the Bright Start child care center and the Go Ye Village retirement home, both of which serve the community of Tahlequah. The Bank of Cherokee County "is not just a bank," says Go Ye Village's Steve Thomas. "They're more of a partner in the process."